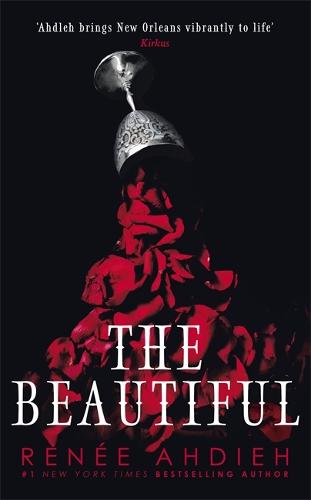 The Beautiful by Renee Ahdieh was bloodthirstingly (not sure that's a word, there's a red line under it?) good.
Published: 8th October 2019
Format: ARC, 425 pages
Synopsis: In 1872, New Orleans is a city ruled by the dead. But to seventeen-year-old Celine Rousseau, New Orleans provides her a refuge after she's forced to flee her life as a dressmaker in Paris. Taken in by the sisters of the Ursuline convent along with six other girls, Celine quickly becomes enamoured with the vibrant city from the music to the food to the soirées and—especially—to the danger. She soon becomes embroiled in the city's glitzy underworld, known as La Cour des Lions, after catching the eye of the group's leader, the enigmatic Sébastien Saint Germain. When the body of one of the girls from the convent is found in the lair of La Cour des Lions, Celine battles her attraction to him and suspicions about Sébastien's guilt along with the shame of her own horrible secret.
When more bodies are discovered, each crime more gruesome than the last, Celine and New Orleans become gripped by the terror of a serial killer on the loose—one Celine is sure has set her in his sights . . . and who may even be the young man who has stolen her heart. As the murders continue to go unsolved, Celine takes matters into her own hands and soon uncovers something even more shocking: an age-old feud from the darkest creatures of the underworld reveals a truth about Celine she always suspected simmered just beneath the surface.
Finally! An exciting and extraordinary place that I can say I've physically visited! Although, it definitely wasn't in this time period and I was only there for 2 day BUT I can fully say that I felt this place and the book did it justice and MORE. I love New Orleans and Ahdieh did a wonderful job of capturing its magic. Every time a new place was mentioned I had an inner squeal, even the food descriptions made my eyes beating cartoon hearts. These details alone were enough to warrant it a star towards the overall rating. Incredible.
Another book where there are no dislikable characters! I found Celine very enjoyable, she is wholeheartedly in the 'grey' black-white spectrum and I admire her bravery and willingness to prove people wrong. She doesn't care what the majority of people think about her and in her time period, it's quite something. Moving on, Bastien *cough* apologies I mean, Sebastien Saint Germain *cough* is one sexy m'fo. Usually I steer clear of arrogant men but he is very captivating, I enjoyed the cat & mouse game between him and Celine. I was also pleasantly surprised to see genuine feelings in him, and it makes me excited for the sequel. Literally salivating at the thought.
The mystery element of the book tied everything together and the sub plot-line regarding the equally enigmatic detective *wiggles eyebrows suggestively but come across manic and untimed* and Bastien will hopefully be explored more in the sequel because I NEED IT. The majority of the chapters are viewed from Celine's perspective but there are a few from Bastien's POV as well as the serial killer stalking Celine. The serial killer POV's weren't entirely necessary of the progressing story line, however they did flesh out the overall arc and no doubt will help in the next book too.
I read the ARC for this book (horrendously late, I know) and so there were a few words that would pop up frequently, a couple of typos here and there but I honestly couldn't put it down. Thankfully I started it whilst my daughter was at her dad's because there was no way I was taking my eyes off it for anything. Highly, highly recommend. So go read it now. Please and thank you.
"We must taste the bitter before we can appreciate the sweet."
You can get your copy here